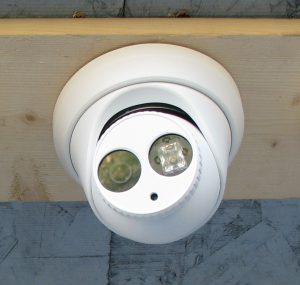 The Hikvision DS-2CD2342WD-I outdoor turret camera features their EXIR infrared illumination for improved vision in total darkness.  It's a 4 megapixel fixed focal length waterproof outdoor turret network camera with great image quality in all lighting conditions.  Most people picture a dome or bullet housing when thinking about a security camera, and I covered those in my reviews of the DS-2CD2042WD-I bullet and DS-2CD2142FWD-I dome cameras.  This is the third housing style in Hikvision's R6 value series platform, and the only one with this style of IR LED.
Core Features and Specifications
Up to 4 MP (2688 x 1520) resolution
1/3″ Progressive Scan CMOS image sensor
2.8mm (106°), 4mm (83°), or 6mm (56°) fixed lens options
IP67 weather-proof rating
Built-in IR with up to 30m (98 feet) range
Powered by PoE or 12 Volts DC ±10%
-30°C to 60°C (-22°F to 140°F) operating range
What's Included?
The turret camera itself
Mounting screws and plastic anchors
Mounting template for installation
Cable gland to seal the network connector
Software CD
Quick start guide
Initial Configuration
Camera and software configuration and operation are the same across all members of the Hikvision R6 platform since they all share the same firmware and core electronics.  The initial configuration and software features that I cover in my Hikvision DS-2CD2142FWD-I Outdoor Dome Camera Review is the same with this camera.  Simply access the factory 192.168.1.64 IP address if you can, or set it to a new IP address with the Hikvision SADP software program.
Hardware Installation
The base of this turret camera is 127 mm or exactly 5 inches in diameter, so it requires a slightly larger mounting surface than the Hikvision dome or bullet cameras mentioned earlier.  Mounting is otherwise the same, and it works well on any flat surface whether horizontal, vertical, or at an angle.  Simply drill a hole for the network cable and attach the camera base with three mounting screws.  Once you get the camera pointed right where you want it, tighten the set screw shown in the picture to hold the camera in that position.  The last step is to attach the plastic trim ring which hides the metal base and mounting screws.  Simply slide it over the camera against the mounting surface and rotate clockwise to lock it in position.
Things I Really Like
The EXIR infrared LED is the biggest feature of this camera.  Even though it's rated for the same distance as the bundle of smaller IR LEDs used on the dome and bullet camera, the EXIR just seems to provide a more even light pattern.  Getting the light a little ways away from the lens also seems to help reduce the problems with insects being attracted to the IR light and making a mess on the lens.
The turret housing style is also becoming a favorite of mine.  Being relatively small and unobtrusive, it can blend in with many environments and not stick out like a sore thumb.  It's also extremely adjustable and easy to point in pretty much any direction that you want.
Final thoughts
I'd like to try this camera with the 4 and 6 mm lens.  Like all cameras with a wide-angle lens, this 2.8 mm one nicely covers a wide area but can't gather any great detail at a great distance away from the camera.  That's not saying anything negative about this camera, it's just something to keep in mind if you're thinking about covering a large area with one camera.  I've added a couple of short videos below that show how it performs at all distances on both cloudy and sunny days.  Keep in mind this is a very wide-angle lens and there is almost 400′ of road visible in the videos.
Of course Hikvision is the OEM for many other people selling this same camera under their own brand or even no brand.