I'm tired of buying junk dash cams that barely last a year, so I spent just a little more this week and got what I believe is the best cheap dash cam with GPS logging capability.  It's the SpyTec A119 model of the Viofo A119 that was released last year and gets excellent reviews from many dash cam enthusiasts.  I've had a dash cam in my vehicle since 2013 when they installed roundabouts on a road that I traveled every day.  It seems that almost every driver in the area had never seen a roundabout before, and I would see a close call nearly every day from people not yielding correctly.
My past problems with cheap cameras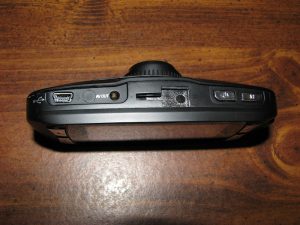 My first dash cam was a DVR-207GS which was a popular 720p camera back in 2013.  I paid $65 on Ebay for it and it worked great for a while, but one day I went to look at the footage and found that I had been driving around for several months with it not recording, even though it looked like it was recording.  The battery had failed, resetting the date to factory default every time it booted.  Since that date was older than the time stamps on my recorded footage, it never deleted the oldest footage making room for a new recording file.  The camera status appeared to be normal but it wasn't really recording.
That was in 2015 and I started doing a bunch of research and decided on the Black Box G1W-CB, which got great reviews and was around $70 back then.  It's a 1080p camera and uses a super capacitor instead of a battery.  It turns out that these have a common problem with the buttons rattling as you drive around so you constantly hear that on the audio recording.   Other than that minor annoyance it seemed to work great until I went to look at the recorded footage the other day.  Unbelievable, I had been driving around for almost a year without it actually recording, even though it looked like it was recording!  The date resets to 2014 every time it powers on and can't write to the microSD because the card is full of files with newer dates from when the clock was working properly.  It turns out that this is a common problem with these, and is unrepairable on mine even with the latest firmware.
Lesson learned, frequently verify that your camera is actually recording!
In search of a new dash camera

There are a lot of dash cams available for less than $100, but you have to be careful because many of them are cheaply made and don't last long.  Since this was something that I've already experienced twice, high quality and reliability were very important to me in my search, and this also narrowed my search very quickly.
The A119 dash cam is made by Viofo and sold directly by them with their name on it.  This same camera is also made by Viofo without their name on the front and is sold as the A119 by SpyTec.  The same exact camera, same quality, same parts, but no name on the front, and as I discovered, sometimes available for much less than the Viofo branded one.  I wasn't looking for a dash cam with GPS logging at first, but when I found the SpyTec A119 with the GPS for less than the Viofo without the GPS, I couldn't say no!
Top features that made me choose the A119

Great reviews – It's the top pick of many dash cam enthusiasts
Rugged construction – much more solid feeling than my other dash cams
1440p at 30 fps or 1080p at 60 fps
Super capacitor instead of battery
GPS logging mount
Great price
It alerts you if it is not recording properly!
You'll also need a microSD card designed for continuous video recording.  Other cards may be cheaper but they aren't designed to handle the load.