External infrared illuminators like the Univivi U06R can be used to help many surveillance cameras see better in the dark.  I purchased this particular unit from Amazon.com back in December of 2014 and it's been sitting in the box unused since then, but we're getting it mounted outside and powered up today!
Click on any of the images in this review to see my original high resolution photo.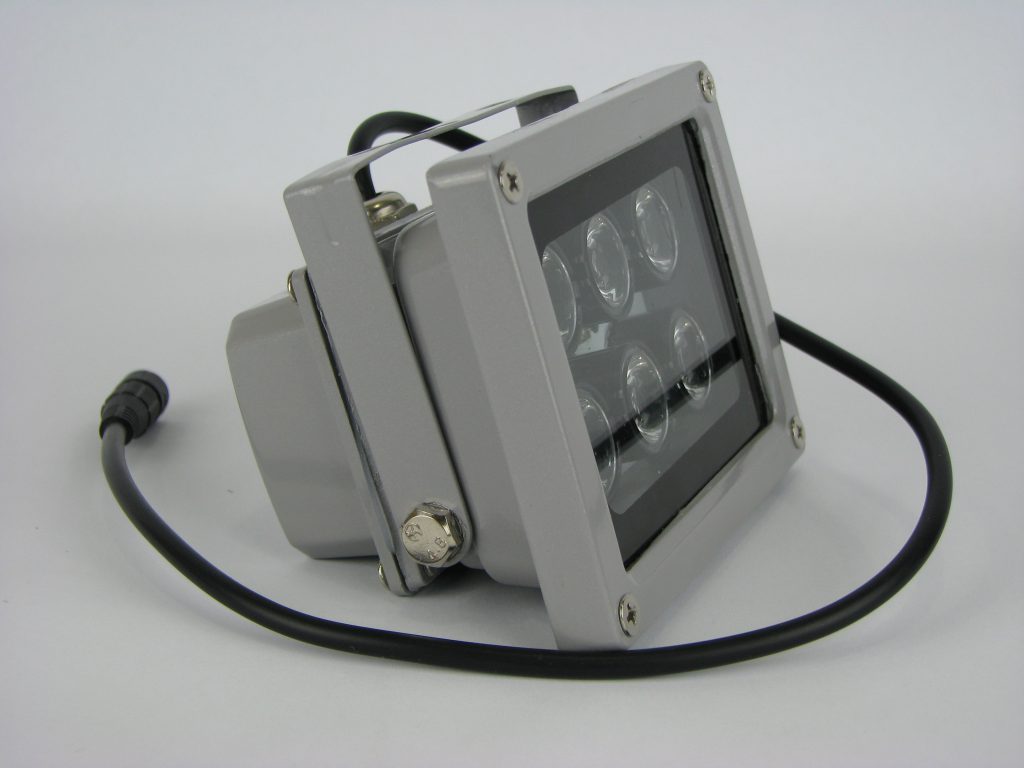 Specifications and measurements
The Univivi U06R is made by Shenzhen Univivi Technology Co. Ltd of China and has an array of 6 high power IR LEDs with a wavelength of 850 nm.  The LEDs are visible to the human eye as a dull red glow when powered on, which is to be expected.  A built-in photocell automatically turns the light on at dusk and off at dawn, and seems to work perfectly.
The rated IR distance is 130 feet with a beam pattern of 60 degrees, and I found that to be fairly accurate with some caveats, as we'll see below.
It has an aluminum case with a reinforced glass window, and an ingress protection rating of IP65.  The housing measurements are 4 1/2″ W, 3 3/8″ H, and 2 7/8″ D.
The recommended power source is a 12V/2A power adapter with a 5.5 x 2.1mm connector, which is not included.  No input voltage tolerance is listed so I sent an email to Univivi Support for clarification and got a reply 10 days later.  They suggest powering this unit from 11.5 to 12.5 Volts.  Mine uses 6.7 Watts drawing 0.56 A at 12.08 V.   The power cable on the unit is 18 inches long and the connector seems to be of good quality and mates securely with my power sources.  The cable entry is not completely sealed by the cable gland, so you'd want to be sure to position the unit and cable so that water can't run down the cable and collect inside of the unit.
Univivi's website lists the weight as 250g, but my scale shows it to be 385g, or 13.5 oz.
Review continued with more pictures
Here are some more pictures of the unit, brand new and just out of the box.  It was in a plastic bag inside of the box and nothing else was included.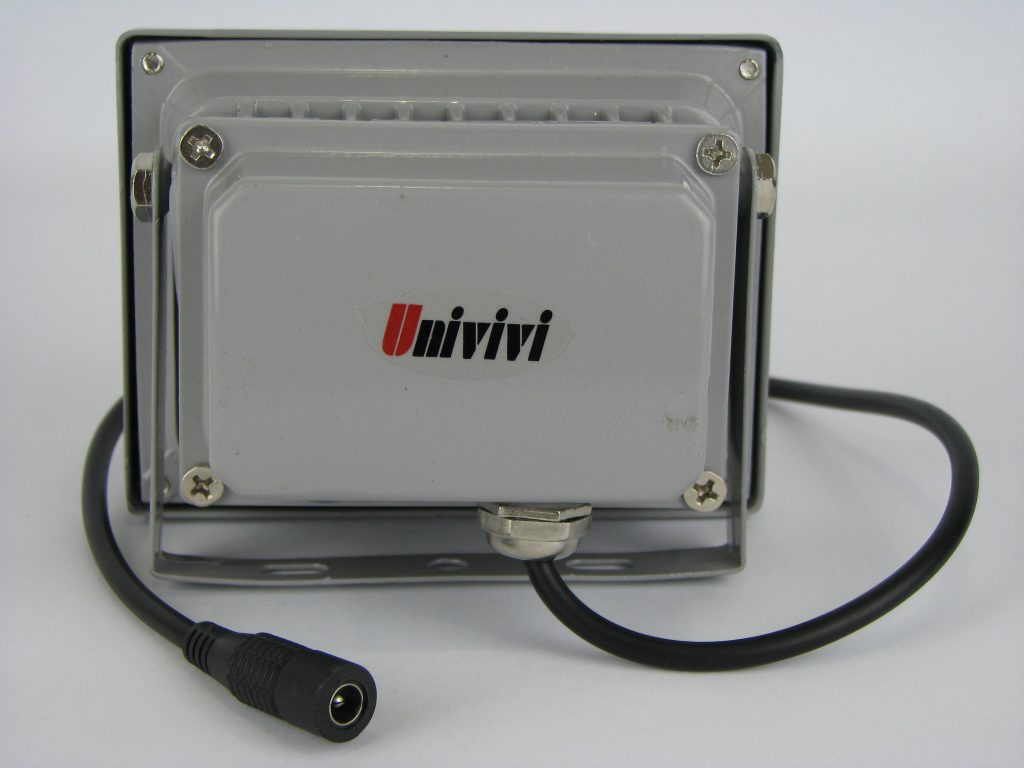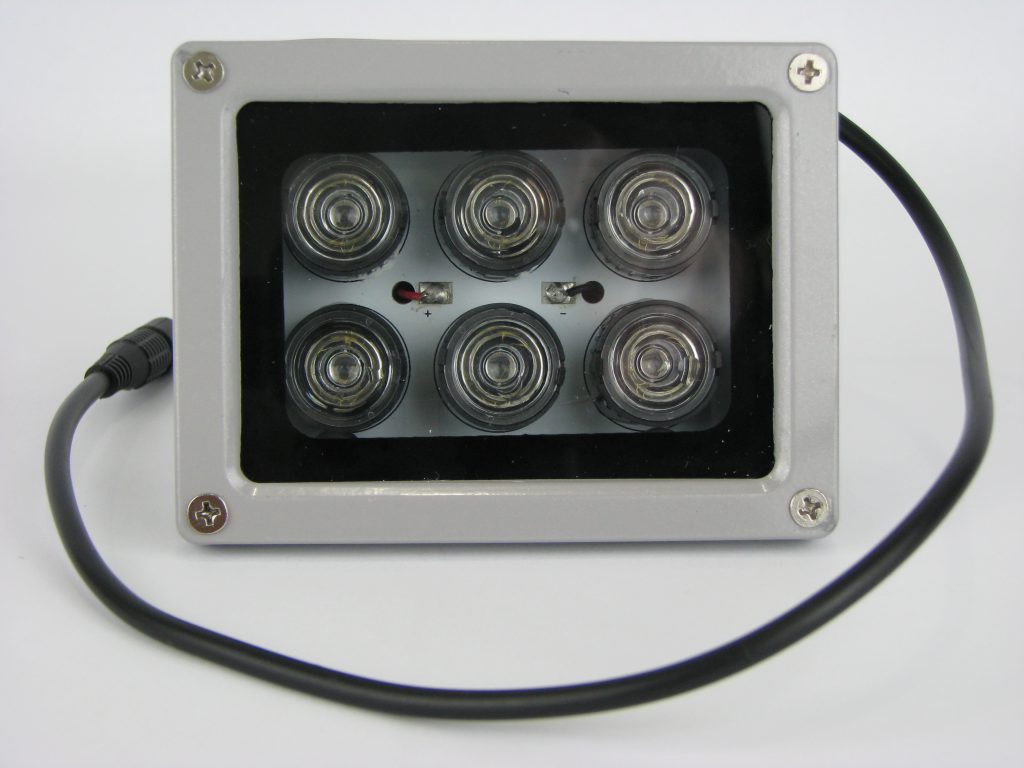 I looked at the unit for several minutes before I noticed that one corner of the rear cover was broken off outside of the screw, as you can see in these next pictures.  I didn't find the missing piece in the bag so I have to assume that it came that way from the factory.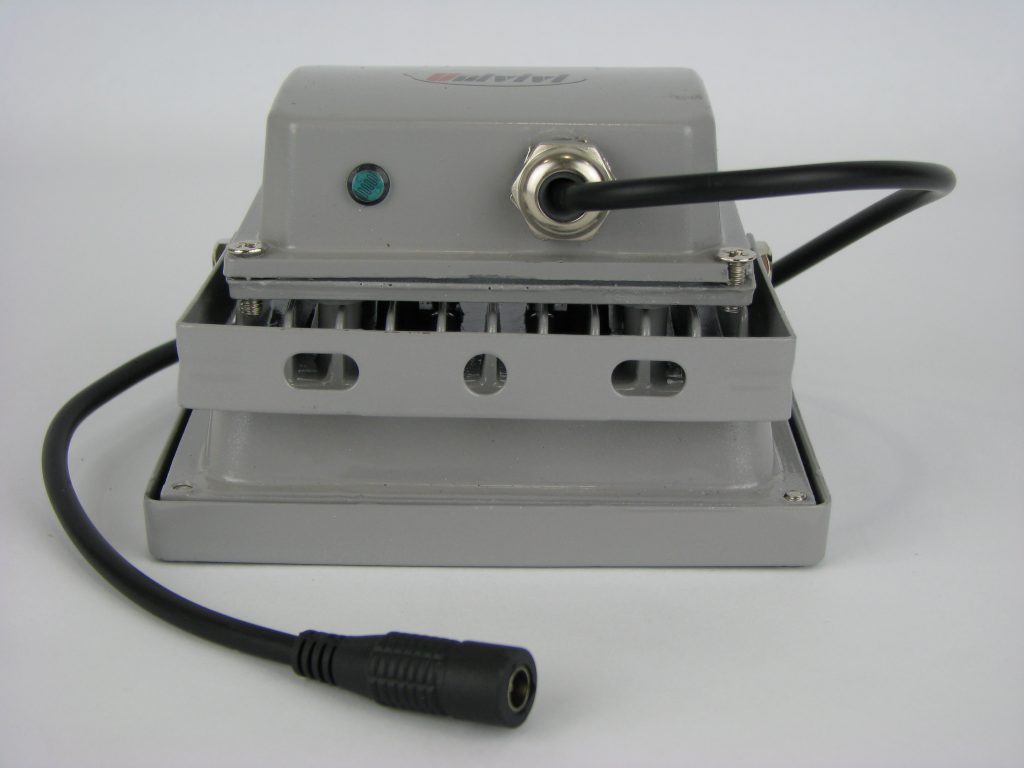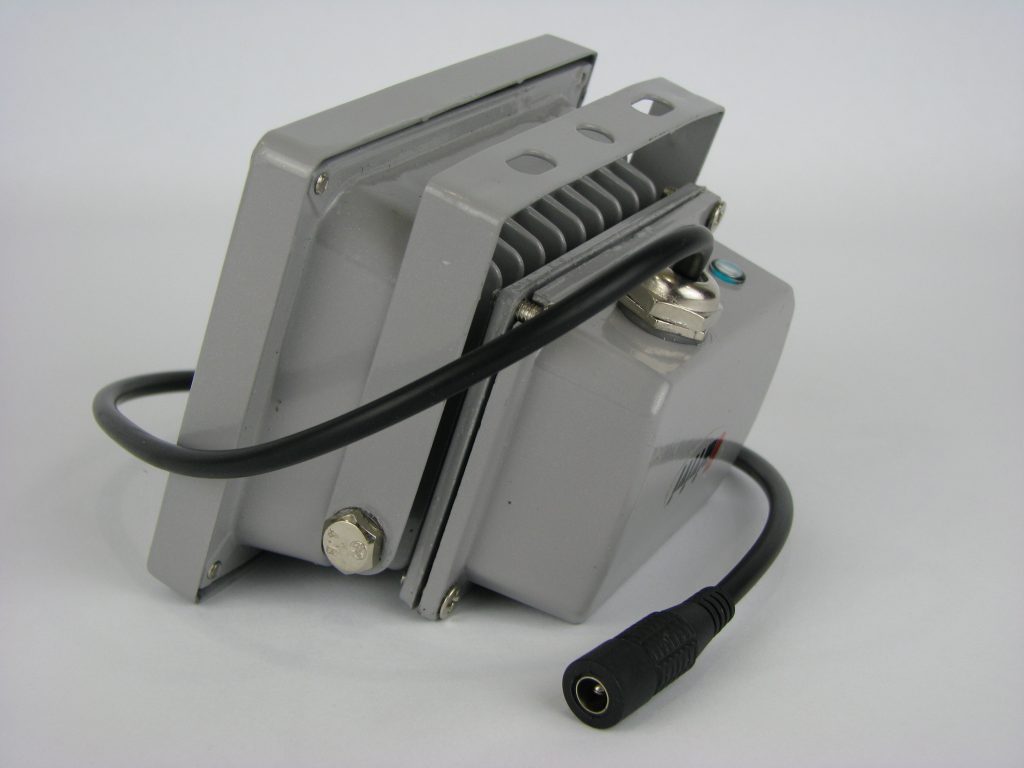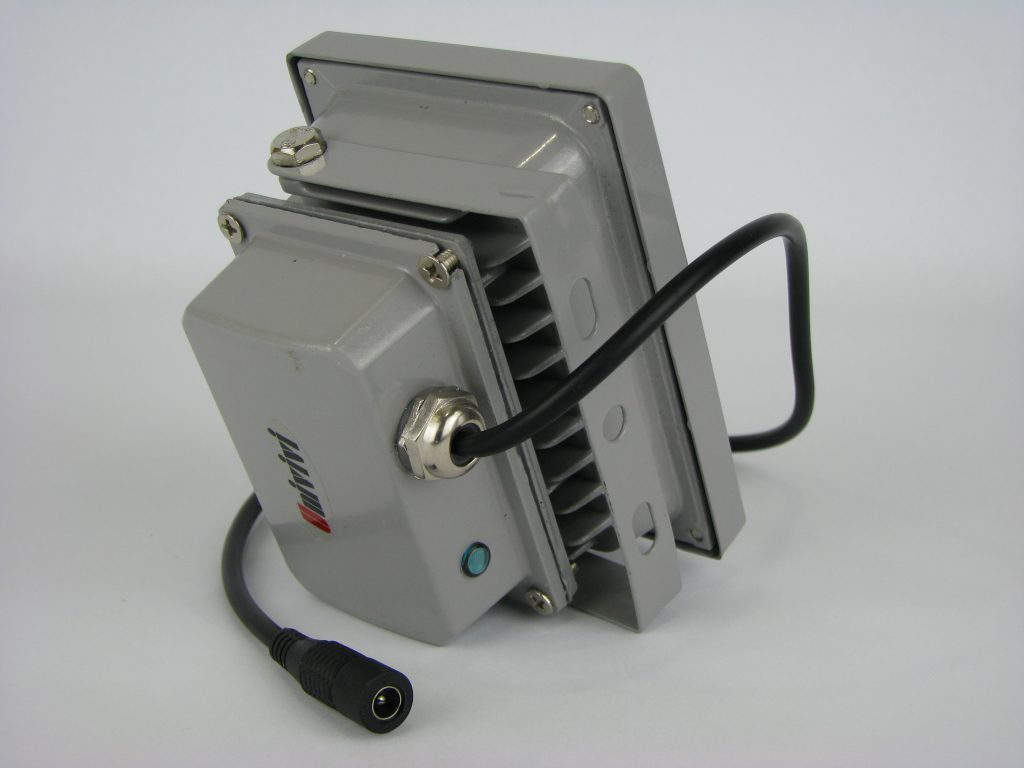 My unit came in a box that was obviously designed for a completely different model light, and other than two stickers placed on the box, most of the information on the box itself doesn't apply to the U06R model that's inside.  Not sure what to make of the box other than to assume it was used as a cost-saving measure.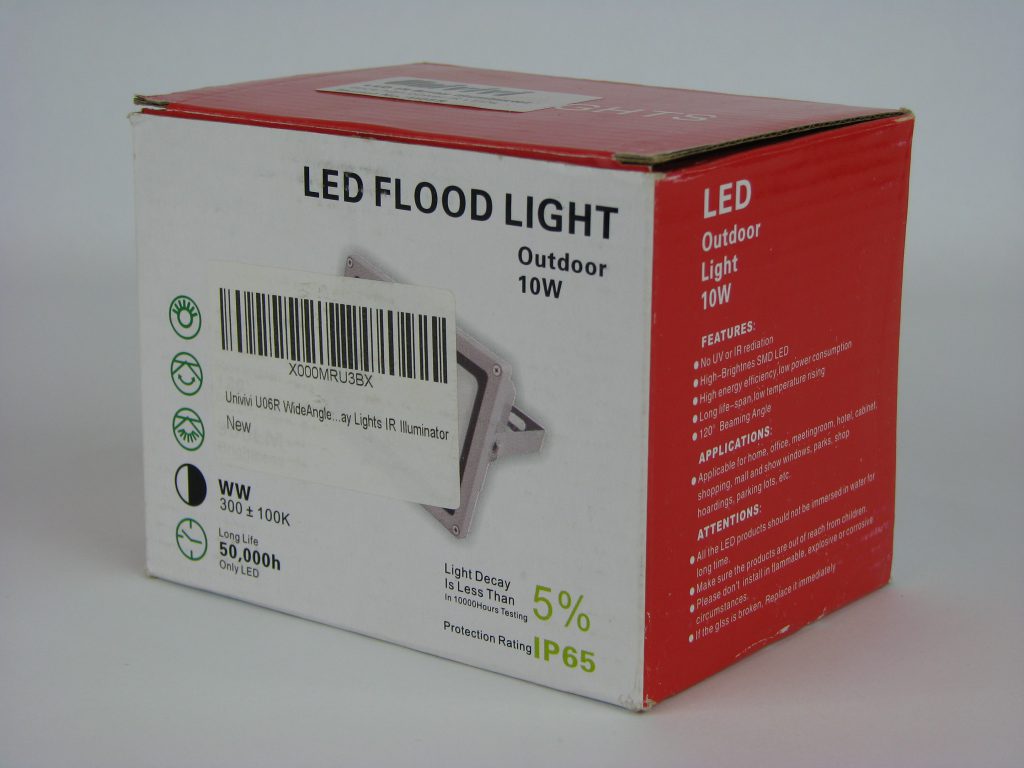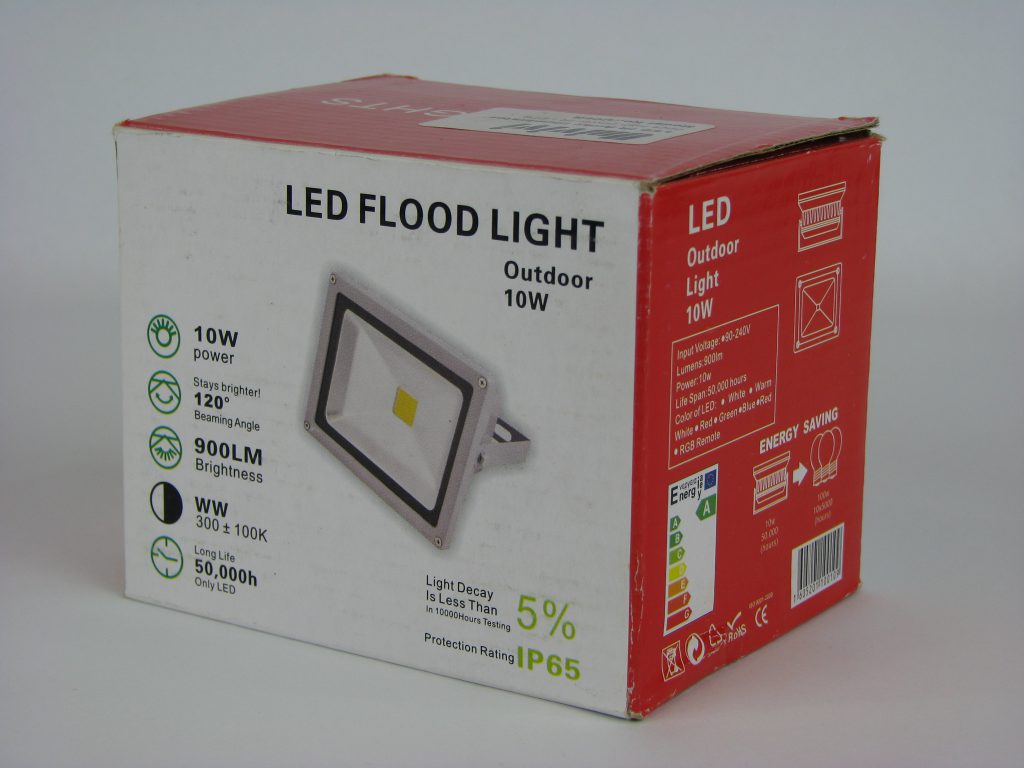 One area where I tested this is under the end of a soffit on the back of my house.  I simply removed the last vinyl soffit panel and used some scrap wood for a test mounting surface.  The total height is 5″ when mounted in this position.  One screw in the middle of the bracket allows for easy adjustment, but once a final position is determined I would secure it with screws in the outer holes.  The mounting bracket is steel and measures 0.043″ thick.  I'd say it is adequate but somewhat flimsy, and it would be nice if it was a little bit thicker and more sturdy.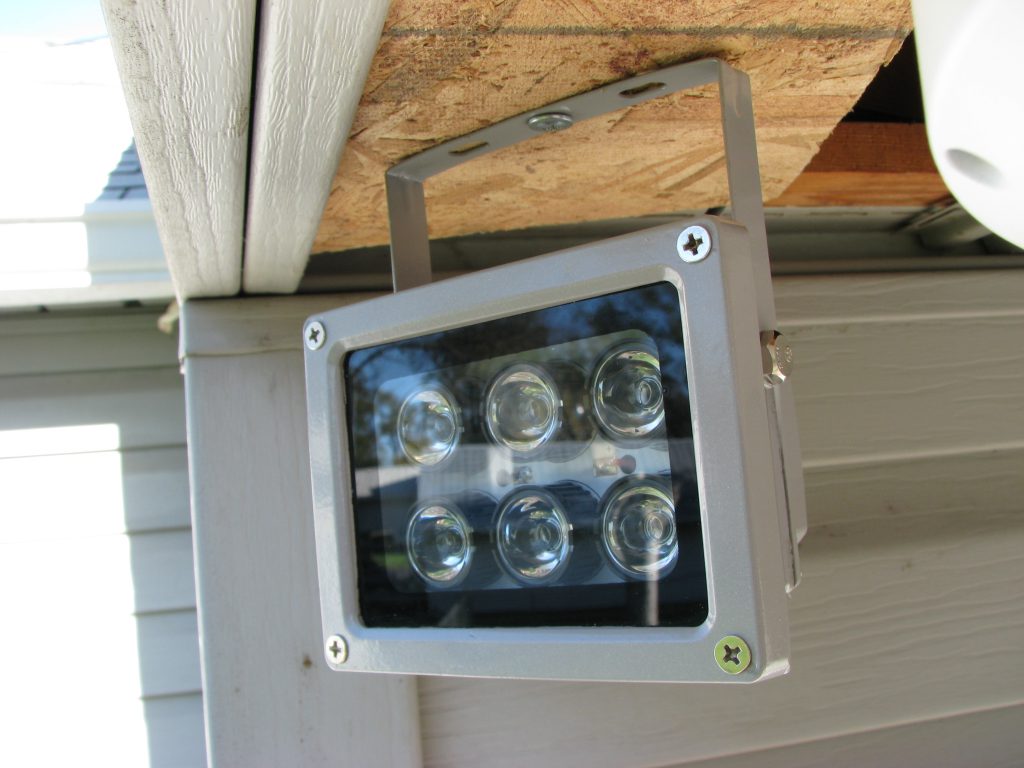 Right next to the IR illuminator is a new Hikvision DS-2CD2142FWD-I with a 2.8mm lens that I'll use in the testing, with the camera's internal IR light is turned off.  The camera is pointing a little higher than I would normally have it so we can see more of the pattern from the IR light.  Here's the camera view with some distances from the camera and illuminator shown.  Click on the image to see in a higher resolution if needed.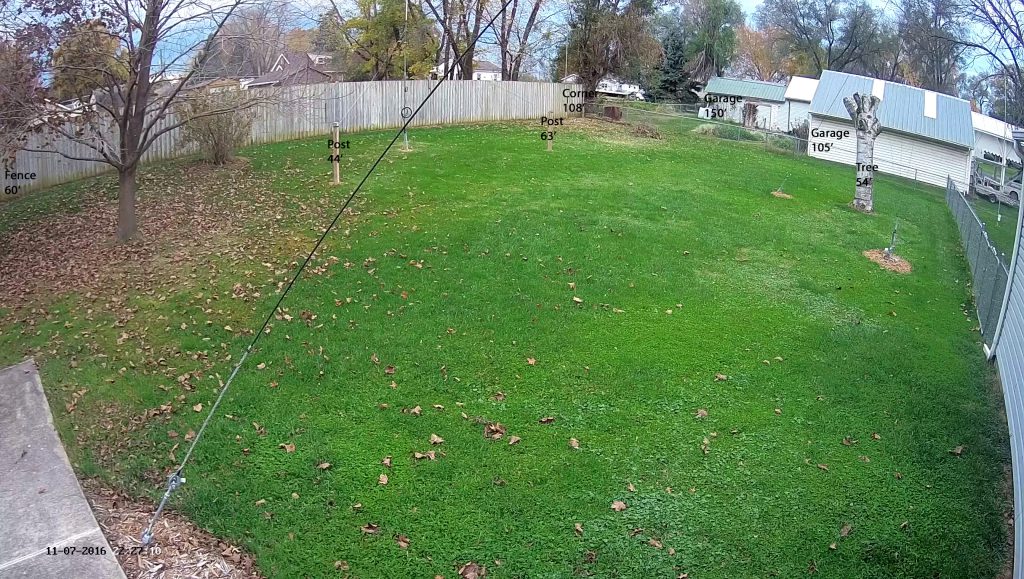 Here's the view from the camera at almost 10 PM at night  with no IR sources, but there were some yard lights around the neighborhood, and a partial moon with scattered clouds.  Not the perfect location to test security cameras at night, but good enough for an initial review.  I'm working on a better test location and will update when I can.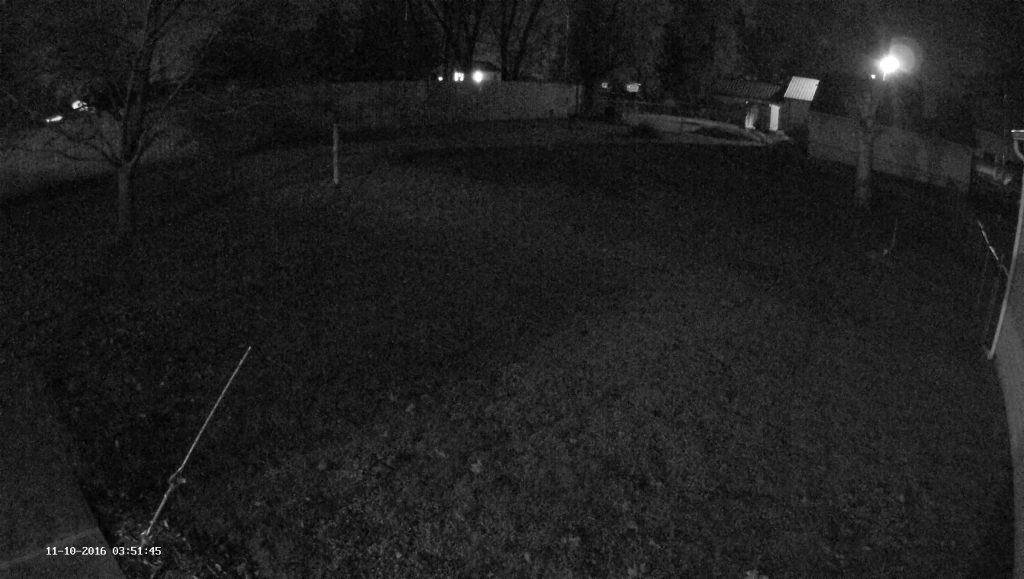 Here is the same view several minutes later with the Univivi powered on.  It does put out a good amount of light and is usable well beyond the rated distance of 130′, but only in the center of the beam.  It covers a wide area but is not an even flood of light , it's a rather narrow area of intense light in the middle surrounded by rings of decreasing intensity.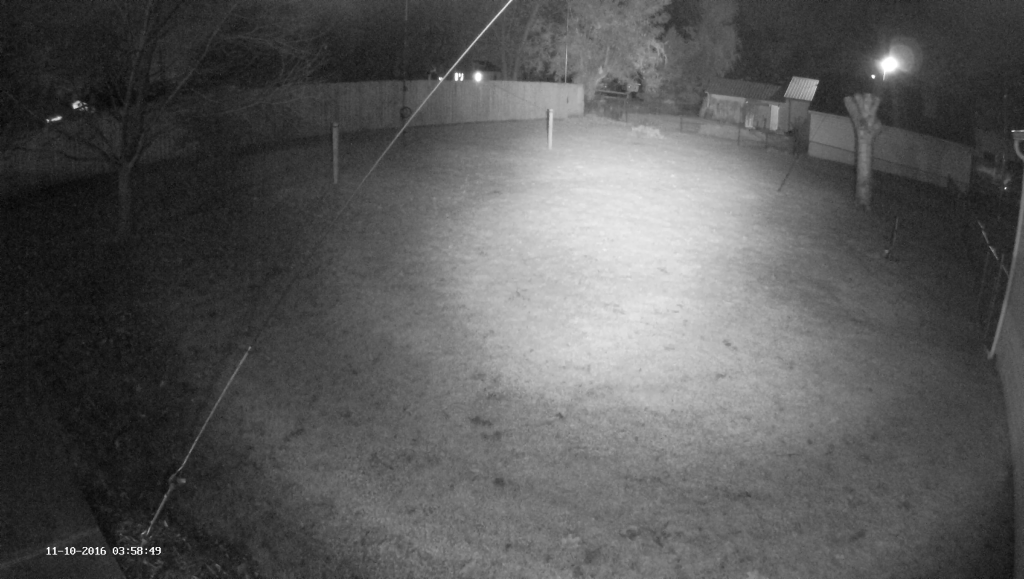 I also briefly mounted the illuminator under the front soffit of the house where I have an Axis P3364-VE, which has excellent low light performance due to the Axis Lightfinder technology.  This picture clearly shows the area of intense IR light in the center that completely washes out anything that's around 20 to 50′ from the camera and light.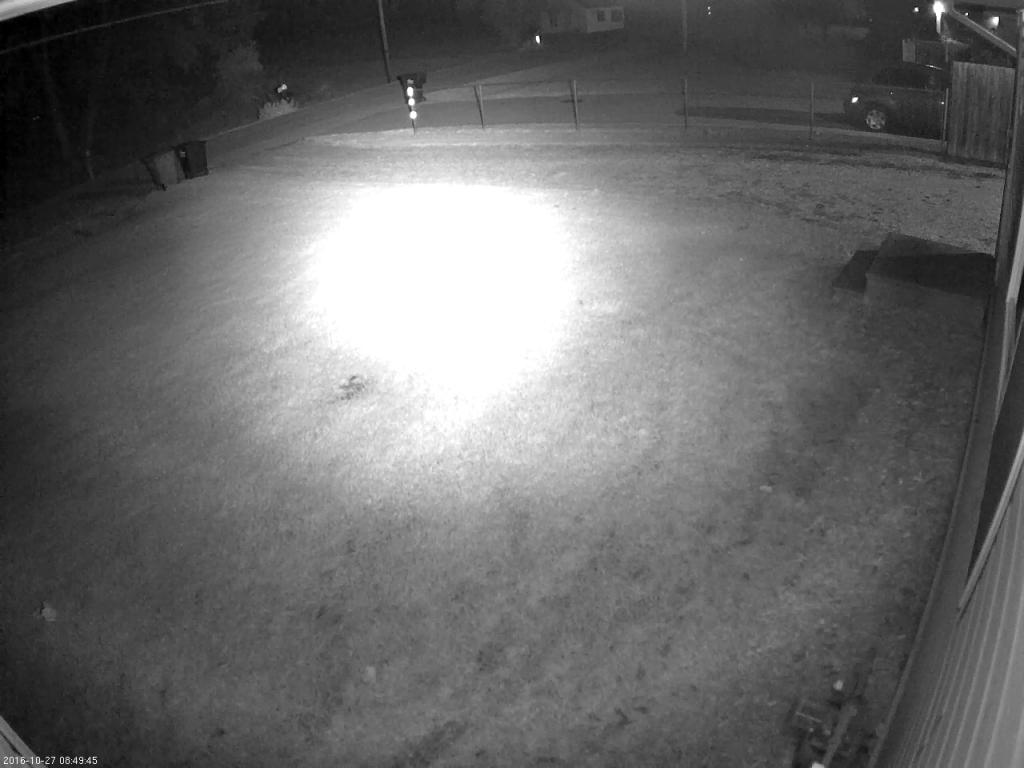 Conclusion
Does it meet the manufacturer's claims and illuminate to a distance of 130 feet with a 60 degree beam width?  I'd have to say that yes, it pretty much does, but with some limitations that we've seen.  The light is not evenly spread out, and is very intense in the center and weakens rapidly as you get away from the center.  The hot spot in the center is also so intense that it's too strong to illuminate anything closer than 50 feet away without overloading or washing out most decent cameras.  If you need to light up an area less than 100′ wide that's around 100′ feet away, this might be a good choice for someone.  My test setups are no more than 8′ above the ground, and I think if the unit was mounted much higher it would make it much more usable.  I think I can find a permanent home for it around here and will update about longevity and any further testing.