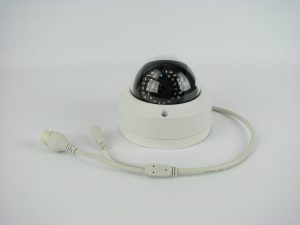 The Hikvision DS-2CD2142FWD-I has professional features and quality at consumer prices.   It's a 4 megapixel fixed focal length vandal-resistant and waterproof outdoor dome network camera with built-in infrared illuminators and great image quality in all lighting conditions.  It's part of Hikvision's R6 value series platform that has an excellent price to performance ratio.
Core Features / Specifications
Up to 4 MP (2688 x 1520) resolution
1/3″ Progressive Scan CMOS image sensor
2.8mm (106°), 4mm (83°), or 6mm (55.4°) fixed lens options
IP67 weather-proof and IK10 vandal-resistance
Built-in IR with up to 30m (98 feet) range
Supports internal storage on microSD card up to 128 GB
Powered by PoE or 12 Volts DC ±10%
-30°C to 60°C (-22°F to 140°F) operating range
What's Included?
The dome camera itself
Mounting screws and plastic anchors
TT-10 Tamperproof Torx tool to open the dome
Mounting template for installation
Cable gland to seal the network connector
Software CD
Quick start guide
Initial Configuration

Hikvision cameras like these now come set to a default IP address of 192.168.1.64, so if you're using that subnet and have that address available, you can just connect the camera and go to that address in your web browser.  If you need to change the camera's IP address to something else in order to access it, Hikvision cameras ship with their SADP software tool.  Simply run this program and it will find any Hikvision cameras on your local network and allow you to set their IP network configuration to something that will work on your network.  It's easier than it sounds and once done you'll probably never need to run the utility again.  Here's a screenshot of the SADP tool running on my network and you can see that I have 6 Hikvision cameras running at the moment, and three of them are the DS-2CD2142FWD-I models that we're reviewing.
Once you can reach the IP address you'll want to go to it with your web browser of choice.  The first time you do this you'll need to install Hikvision's WebComponents browser plug-in in order to view video from the camera, which is easy and will automatically download from the camera.  Some web browsers do work better than others, and that seems to change with time as browsers are updated and Hikvision updates their Webcomponents plugin.  Internet Explorer and Mozilla Firefox both work well for me, but Google Chrome and Microsoft Edge do not support the plugin.
You will need to update the admin password for the camera when you login for the first time.  Once that is done you should be able to see live video from the camera.  As always, I recommend that you complete all of these initial configuration and testing steps before you mount the camera in a permanent location.  If you do those steps first, you will at least know that the camera was working if you run into any trouble installing it in the field.  Now is also a good time to install and test a microSD card in the camera if you plan on using one, though it's not required and the camera works fine without it.
Hardware Installation

Installation is pretty straightforward, but you can read even more about it in my post about installing camera systems.  Simply loosen the three captive TT-10 screws that secure the dome and lift the dome away from the rest of the camera.  There is a small cable that secures the dome to the camera housing that's there to keep you from dropping the dome.  I always remove this cable because having the dome right there really gets in the way while mounting the rest of the camera.  Drill the center hole for the network cable, connect the cable, and mount the camera using the three screws provided.
Now you can point the camera in the general desired direction and make sure everything is working.  I'll usually bring up a video stream on my smartphone to view the camera live while I make the final adjustments to the position of the lens.  The camera has three axis adjustments so it's pretty easy to get it pointing the exact direction that you want.  Like with most mini dome cameras, avoid pointing the lens completely parallel to the mounting surface.  It will look great with the dome off but once the dome is installed you may find that it covers some or the IR LEDs or even part of the lens.
More Features

I won't try to cover all of the different software features, but it's safe to say that this camera will do just about anything that you want and has everything covered that you would expect these days.  Motion detection, intrusion detection, line crossing detection, save image or record video on an event, or even send an email on an event.  You can record to the internal microSD card continuously or only when motion or another event is detected.  Of course the camera streams video over the network and you can record to a PC running the Hikvision iVMS-4200 recording software, which is included on the software CD, or record to any other destination of your choice.
I find the Hikvision cameras to work well with the factory settings right out of the box, but this model has a wide range of image adjustments if needed to compensate for unusual situations.  The backlight compensation and wide dynamic range adjustments work particularly well, and I've tried them several times on several extremely high contrast scenes.
All of mine are just the "-I" version, but the DS-2CD2142FWD-IS is also available.  It's the same camera but the "S" at the end indicates that it has sound and alarm I/O capabilities.
Things I Really Like

I bought my first one of these because of its size.  I needed a smaller dome camera and these were perfect at 111 mm (4.37″) in diameter and 82 mm (3.23″) tall.  Some parts of my house have a very small soffit and these cameras fit there perfectly.  I got some of the 2.8 mm models to watch large area for general activity with their 106° field of view, but also one with a 4 mm lens to get more detail in a smaller area with its 83° field of view.  Both lenses have great image quality.  Hikvision states that there is a 6 mm lens available too but I have never seen one in this dome camera available in the USA.
The infrared illuminator performance is typical for the design.  While it does cast IR light out to the rated distance it's really only usable to maybe 2/3 of that distance.  The IR beam perfectly illuminates the view of the 4 mm lens but it doesn't quite fill the full width of the 2.8 mm lens' field of view.  This is very typical for this type of illuminator and not unusual at all.
Shortcomings

It's unfortunate that the WebComponents plugin is required to view the video stream in a web browser and that it's not supported in Edge or Chrome.  Plugin requirements and issues like this are common across most all camera manufactures though.  It's seen with most vendors and is just a symptom of where we're at in a changing technology environment.
Beware of grey market cameras unless you know that's what you're getting and that's what you want.  These are usually cameras made for the Chinese market that have been modified to run English firmware and then sold in other regions of the world that they were not originally intended for.  The firmware on these cameras cannot be upgraded and Hikvision will not support them.  I recommend that you stick with one that comes in a red and white box and specifically sold as a US / International version with upgradable firmware.  You can confirm that you receive one of these because it will have a "WR" in the middle of the serial number.  All of mine are "WR" cameras and I have upgraded the firmware with no problems.
Final Thoughts
I have 6 Hikvision cameras and half of them are the DS-2CD2142FWD-I, so I obviously have no problem trusting them and recommending them if you need a small rugged dome camera for indoor or outdoor use.
Hikvision is one of the largest camera manufacturers in the world and besides selling their own brand they are the OEM for many cameras sold under other brand names.
Here's a short daytime video clip from one of mine with a 2.8mm lens.  Watch at 1440p to appreciate the full detail and clarity, there's a lot more activity going on in the background if you look for it.